AutoCAD Version Explorer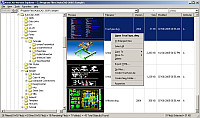 Description:
AutoCAD Version Explorer (AVE) is a stand-alone program that provides an Explorer-like interface to quickly view AutoCAD preview and version information.
Features:
* Display version (v2.5, 2.6, 9, 10, 11/12, 13, 14, 2000, 2004, 2007 & 2010)
* Display preview images (v13, 14, 2000, 2004, 2007 & 2010)
* Output selected files or entire directory to HTML format
Great for documentation.
Take a look at a sample.
* Create zip files from selected files or entire directory.
* Display 3X view and various file management options by right-clicking a file.
* Full Drag-n-Drop support for easy integration with other Windows software.
* Optional shell integration.
Adds "Browse with AVE" to the right-click context menu.
Simply enable or disable using the tools menu.
* Small, fast and self-contained. No external files required.
* It's Freeware

Minimum System Requirements:
Win9x/ME/NT 4.0/2000/XP/Vista/7
Internet Explorer 4.0
200MHz Pentium Class Processor
8MB RAM
200KB Free Disk Space (AVE.EXE is only 193k)
Note: AutoCAD does not need to be installed to use AVE.

Installation:
Simply unzip into a directory of your choice and run ave.exe.
Removal:
If you decide to remove AVE, just delete the directory.
Note: Make sure to disable shell integration before removal.